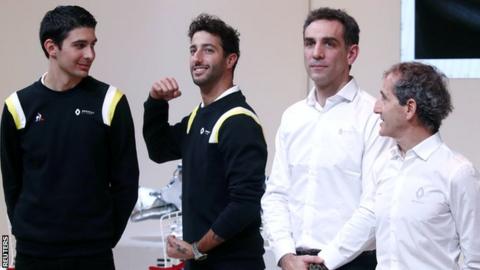 Renault need to "regain confidence" this season after a tough 2019, their Formula 1 boss Cyril Abiteboul says.
They fell from fourth to fifth in the world championship last season, which led to a significant staff reshuffle and their technical director's exit.
"Taking back fourth position in the constructors' championship remains the objective," Abiteboul said.
Abiteboul added that the team needed to "set the best possible course for the major regulation changes of 2021".
F1 is introducing new technical rules next year aimed at closing up the field and making the racing more competitive.
Abiteboul was talking at a Renault event in Paris, at which the team did not have a new car ready to show off because it is not yet finished.
Instead, they teased images of parts of their new car, which will not emerge until the first day of pre-season testing on 19 February.
While Ferrari showed off their new car on Tuesday at a lavish event in Italy and Red Bull ran theirs at a private test at Silverstone on Wednesday, Abiteboul was unapologetic about the absence of a car from the event and denied the new model was late.
"If anything, we are much more on schedule than we were last year," he said.
"If you optimise your schedule, you don't have a car waiting here for a couple of hours or days. The car is [being] built and going straight to Barcelona.
"On that basis, our only option is to have fake cars, show cars, altered to look like this year's car. For me, that's a waste of money and people will always interpret based on that.
"So rather than that, no car. For anyone interested in the car, look at the pictures next week."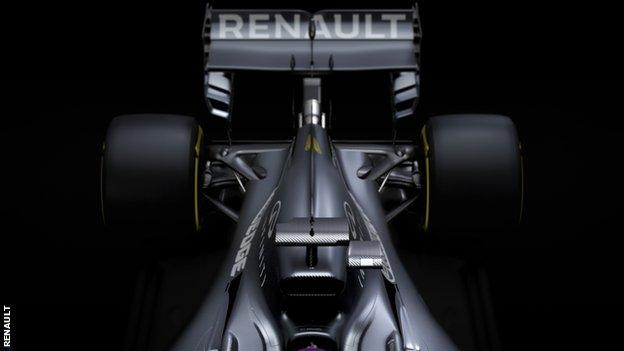 Will Renault stay in F1?
Renault's future in F1 is up in the air as the company is undertaking a fundamental review of all its operations following the scandal surrounding former chief executive Carlos Ghosn, who is living in Lebanon having fled bail in Japan, where he was being held under house arrest on charges of financial irregularity.
But Abiteboul said he had "every reason to believe" Renault would sign a new contract with F1 to take it beyond the end of 2020.
He said he expected a "major improvement of our (financial) terms" as a result of the negotiations that all teams are holding with F1 over new commercial agreements and that "in principal we are in it for the long term".
Changes in senior management
Wednesday's event was attended by new chassis technical director Pat Fry, who has replaced the ousted Nick Chester.
Abiteboul added: "For the coming season, we must respect the three priorities identified during the off-season: reliability from the get-go; ensure a high level of development very early in the season and have a good conversion rate on track."
These reflect some of the areas in which Renault fell short last year with a car that was sensitive to track characteristics and proved difficult to develop.
On the driver front, Australian Daniel Ricciardo continues for a second season and is joined by Frenchman Esteban Ocon, the former Force India driver back in the sport after a year as Mercedes reserve.
Ricciardo – who is out of contract at the end of the season, along with multiple world champions Lewis Hamilton and Sebastian Vettel – said he was "optimistic" about the team's potential.
"We have to move forward and we have the tools and the equipment," Ricciardo said. "I do believe we will get the fourth place back. Will it come easy? No. But I think if we do everything we say we're going to do, then it's going to happen. We'll get there."
Ocon added: "It's very exciting and I can't wait to test the new car in Barcelona.
"We've had a lot of time to prepare, and I'm feeling ready for the challenge. I'm really looking forward to racing again – back where I want to be – after waiting for a year.
"There are a lot of new items on this year's car and the guys have been working hard to find some additional performance.
"It's all about details in F1 and I've seen quite a lot of details on the Renault RS20.
"It's exciting to see the design but the next thing you want is to be behind the wheel and feeling what it's like."