Mexico is now two for two in the group stage of the CONCACAF Nations League. Following last week's 5-1 thrashing of Bermuda, El Tri returned home to collect another three points during Tuesday night's 3-1 win over Panama.
The match also marked the Estadio Azteca debut for manager Gerardo "Tata" Martino, who now has 14 victories as national team boss.
Positives
Mexico's quick passing was brilliant to watch. The midfield and frontline regularly connected as a fluid and dynamic unit that rapidly moved the ball around in Panama's final third.
– Marshall: Macias making most of his Nations League chances
Keeping in mind that Martino decided to slightly experiment with his formation, it was impressive to see how easy and comfortable it was for Mexico to adapt to a setup without a true striker.
Negatives
All that being said, a striker's eye for goal was undoubtedly absent in the attack. Numerous players mistimed their shots throughout the evening. During a handful of instances, it also looked like Mexico was trying to pass its way into the net instead of capitalizing on chances. Let's not ignore Panama's dangerous counter-attacks either. Mexico's defense at times looked dazed by the pacey runs and dribbles from the Central Americans in the second half.
Manager rating (out of 10)
7 — Martino's attempt to go with his usual 4-3-3 formation with an unusual false nine was a mild success. Hirving Lozano, Roberto Alvarado and Rodolfo Pizarro all thrived in the frontline — and have the win to show for it — but something felt missing without a true No. 9 playing up top. Martino remedied that with the introduction of Jose Juan Macias, a striker who scored the second goal of the night and who also had a minor role in the creation of the third.
Player ratings (1-10, with 10 the best. Players introduced after 70 minutes get no rating)
GK Raul Gudino, 8 — He didn't need to do much in the early stages of the match, but Gudino later made crucial saves for Mexico when Panama began to ramp up pressure right after half-time. Little he could do to halt the own-goal from Carlos Salcedo either.
DF Alan Mozo, 6 — Fans likely expected more from the young full-back that was an unanticipated MVP earlier this month against Trinidad & Tobago. Mozo had little to offer going forward on the right wing and was fairly quiet defensively.
DF Carlos Salcedo, 7 — Don't pay too much attention to his own-goal. Despite his unlucky touch that sent the ball into the back of Mexico's net, Salcedo was a necessary defensive figure for El Tri that halted a handful of Panamanian counters. He also dished out beautiful long-range passes that made him look like a quarterback for Mexico's attack.
DF Nestor Araujo, 6 — There's something that remains off about the central defender who has looked questionable in recent games for Mexico. Araujo's decision-making and marking needs fine-tuning in future national team games.
DF Cristian Calderon, 6 — Like Mozo, there isn't much to say about Calderon. The left-back, who should be given credit for his involvement in the build-up of a few plays, needed to be more proactive against Panama.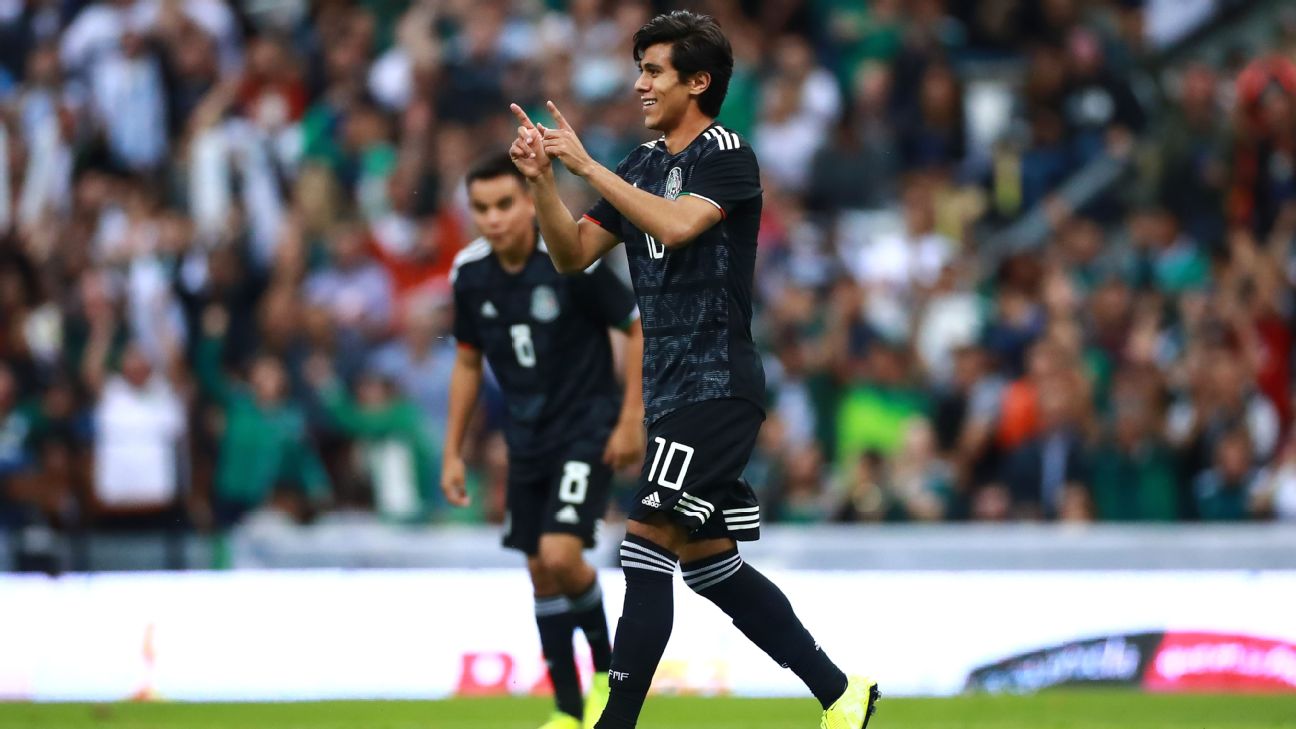 MF Hector Herrera, 7 — The captain was the undisputed lynchpin for Mexico. Although he's docked a point or two for partially losing control of the midfield in the brief instances of the second half, the Atletico Madrid player stepped up as a vital distributor and reference point.
MF Carlos Rodriguez, 7 — Rodriguez is gradually making a case for himself as a go-to midfielder for El Tri. He has plenty of competition for minutes, but his performance on Tuesday highlighted his ability to be a part of the unit that rapidly moved the ball around.
MF Erick Aguirre, 6 — Aguirre connected well with the midfield and attack through his passes, but seemed to have used up all of his energy during the first 45 minutes. The 22-year-old was unsurprisingly the first player to be substituted out by Martino.
FW Roberto Alvarado, 8 — Alvarado opened up the scoresheet with the first goal of the night and later provided the assist for Mexico's second. If he can maintain this form and chemistry with the roster, the young winger should continue to earn highly valuable minutes in the near future.
FW Rodolfo Pizarro, 8 — Did Pizarro look uninspired and tired during various moments of the second half? There's no doubt about that but there's also no questioning his impact in game-changing moments. The winger provided an assist in the first half and later found a second wind that helped him secure a goal in injury time.
FW Hirving Lozano, 7 — Lozano thrived in atypical position as Mexico's false nine. The winger-turned-striker dropped back, created opportunities and hit the crossbar off a dangerous shot from distance. All that was missing was a goal for the player who was brought off due to an injury.
Substitutes
MF Sebastian Cordova, 6 — Substituted in for Aguirre during the 62nd minute. If the rumors are true that European scouts are keeping an eye on him, they might not have had very many notes on him today. The midfielder had no real impact during his cameo appearance.
FW Jose Juan Macias, 7 — Substituted in for Lozano during the 66th minute. Macias' goal is now his third in his last two games for Mexico. It looks like Martino made the right decision by bringing on the striker that also helped in the build-up of the third goal.
FW Uriel Antuna, N/A — Substituted in for Alvarado during the 89th minute.