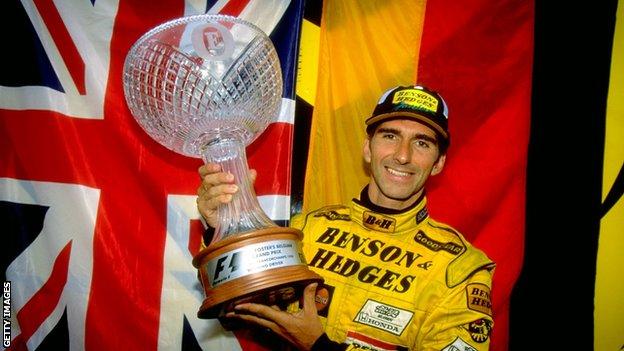 "Oh, this is terrible, this is quite appalling, this is the worst start to a grand prix I have ever seen in the whole of my life."
Legendary commentator Murray Walker was seldom lost for words and true to form they did not fail him when it came to calling the incredible 1998 Belgian Grand Prix.
It was an enthralling event that featured a 13-car pile-up, spectacular crashes, a furious pit-lane bust-up, horrendous weather from start to finish and a maiden win for one of the sport's underdogs.
BBC Sport remembers one of the most incident-filled races in the 70-year history of the sport, with analysis throughout from the BBC's chief Formula 1 writer Andrew Benson, who was there that day.
"Memories are a little hazy – it was more than 20 years ago, after all," says Benson.
"But they amount to a mix of shock, surprise, joy and most of all, a sense of a kind of pervading madness all around."
Unlucky 13 – first-lap chaos sets the tone
The race was the 13th of 16 that season, with McLaren's Mika Hakkinen leading the drivers' championship and chasing his first world title, seven points clear of two-time champion Michael Schumacher of Ferrari.
The weekend was lively from the outset with Hakkinen, Jacques Villeneuve and Mika Salo crashing in practice, before Hakkinen took pole with Schumacher fourth.
Come Sunday, the heavens opened in a big way, but the decision was taken to start the race at the scheduled time without a safety car.
And it looked to be a wise move as the cars got under way… for all of 15 seconds.
Hakkinen led the pack down the hill towards Eau Rouge and then the drama started.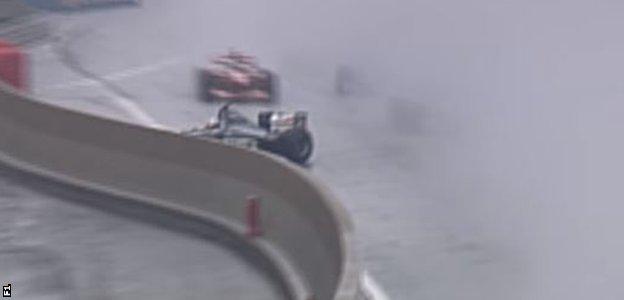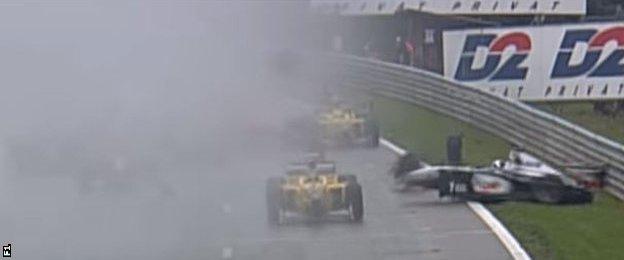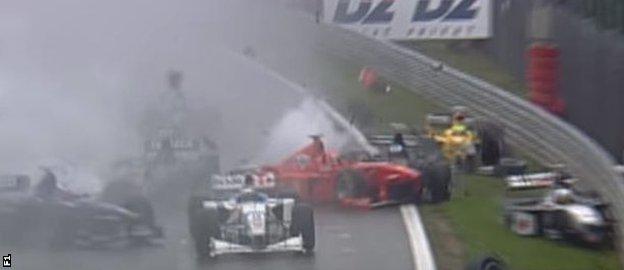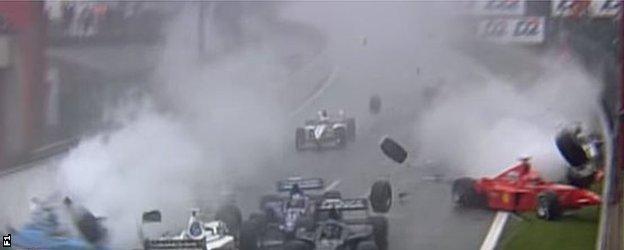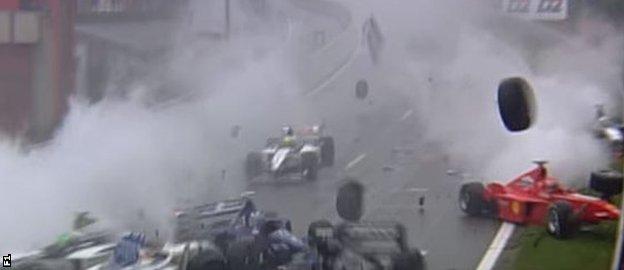 So what was it like being in the middle of all this?
In 2015, Ferrari's Eddie Irvine told the official Formula 1 website that it had been "a bit scary".
"I had no brakes, no steering, nothing was working," he said.
"I was just sitting there hurtling down the track with wheels hitting me on the head and cars going all over the place. There was nothing I could do except sit there and think 'where is this taking me?' It was not pleasant…"
Jordan's Ralf Schumacher was right in the middle of it all – but he was extremely lucky.
"It was quite funny, because I just spotted a McLaren sideways in front of me and I saw the mess going on all around me," Ralf Schumacher later recalled.
"I moved my car left, parked it in neutral and waited, just in time to see an Arrows suddenly miss me by about 10 centimetres.
"Then when everything had settled, I just engaged a gear and went through."
But the start of the race is not what sticks in Benson's mind.
"Oddly, the massive pile-up at the start, involving a total of 13 cars or more than half the field, is not the most powerful recollection. Most of it involves Michael Schumacher in one way or another," said the BBC's chief F1 writer.
So what did Michael Schumacher get up to?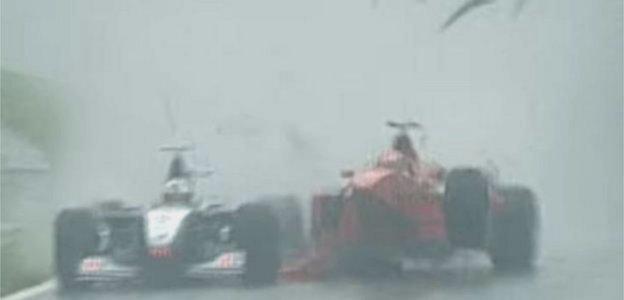 The rain was still heavy and the restart was also dramatic.
Hakkinen made a slow start and spun before the Sauber of Johnny Herbert went into him, ending both their races. Benetton's Alexander Wurz was another casualty after a collision with David Coulthard, which left the Scot at the back.
Soon, the wounded McLaren was being hunted down by leader Schumacher.
On the downhill straight to the 150mph Pouhon corner, Coulthard, on the racing line, backed off to let Schumacher by. But caught unawares, the German's car smashed into the back of the McLaren, ripping off the Ferrari's right front wheel.
"Oh God!" sputtered Murray Walker, who was incredulous.
Back in the pits, Schumacher assumed Coulthard acted deliberately to hinder the German's world title hopes to help Hakkinen – and the German set off down to the McLaren garage.
'It was obvious it was just one of those things'
Benson's view of the incident
"Schumacher appeared to be on the way to a routine, dominant wet-weather win, until he shockingly rammed into the back of Coulthard's McLaren.
"It was obvious – to everyone bar Schumacher – that it was just one of those things that can happen on a stinking wet Ardennes day, when visibility on the race track was almost non-existent.
"Schumacher, though, did not see it that way. He assumed Coulthard had slowed deliberately, in an attempt to make the Ferrari ram into him, to help team-mate Hakkinen in the title fight.
"Everyone who knows Coulthard knows that's a nonsense, but Schumacher three-wheeled his car back to the pits, stormed out of it, and raced off down to confront his rival in the McLaren pit.
"'You tried to kill me!' he screamed as he tried to grab Coulthard's throat, while being held back by Ferrari's then-sporting director – and future team boss – Stefano Domenicali.
"There was a rapprochement of sorts later, but then Schumacher took exception to something else…"
'I'm going to put something to you, I think you'd better listen'
With only eight cars still running, the Jordan team, still winless after 125 grands prix, found themselves vaulted into first and second place, with 1996 world champion Damon Hill out in front from team-mate Ralf Schumacher.
The conditions were still horrendous, but the German was the faster man and challenging Hill's lead.
Concerned they would end up losing Jordan's first ever F1 win – never mind a one-two – Hill radioed the team to say they could continue to race if they liked but that it would make more sense to back off.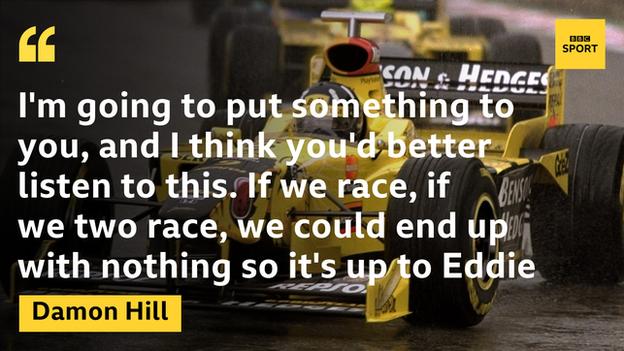 Team boss Eddie Jordan agreed and insisted that Ralf Schumacher, who was leaving the team at the end of the season, could not overtake Hill. The German, reluctantly and after a short period of radio silence, finally acknowledged the order.
Hill took the win, his 22nd and final victory of his career, while Jordan skipped down the pits in celebration of not just a maiden win but also a stunning one-two.
"I looked like a complete idiot," Jordan said years later. "The euphoria, the excitement it just took over. It was a day I shall never, ever forget. There were so many things wrapped into those couple of hours – intrigue, tension, not believing it could happen"
Michael Schumacher, meanwhile, was still simmering after his earlier crash and sought out the Jordan team boss – who gave the German his F1 debut seven years previously – to complain about the treatment of his younger brother.
Rain, champagne and Hill's smile
Benson's view from the media centre
"Jordan's imposition of team orders made Eddie Jordan the fresh target of the older Schumacher's ire, which was a bit of a jolt for the Irishman, who until then had been jigging around deliriously, swearing joyously at all and sundry, as he celebrated his team's coming of age.
"He was not the only disbelieving one. Back in the media centre, Hill was surrounded by a posse of British journalists – this writer among them – after the official news conference ended [things were a bit more informal in those days].
"Hill talked as he tried to take it in, as the smell of rain, sweat and champagne wafted up from his yellow overalls.
"Two decades later it may be, but Hill's uncomprehending smile, the huddle, and its accompanying aroma are perhaps the clearest memory of all."
Twists, turns and crashes – images from an incredible race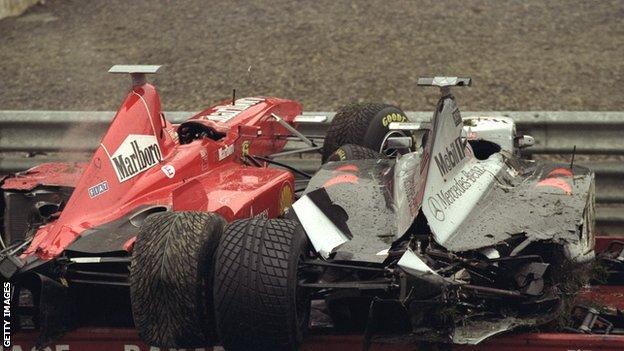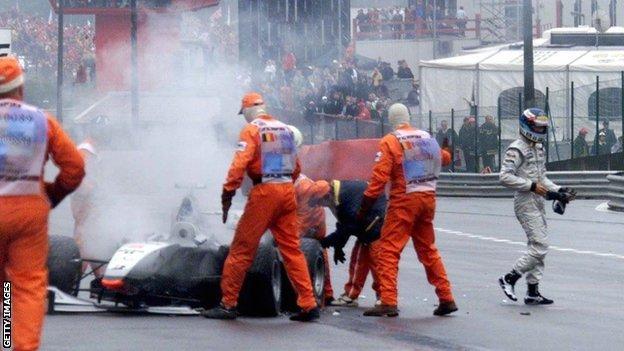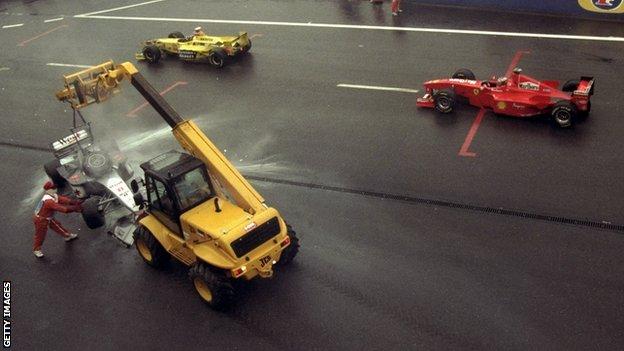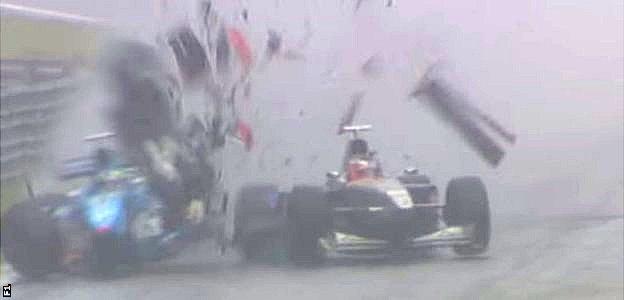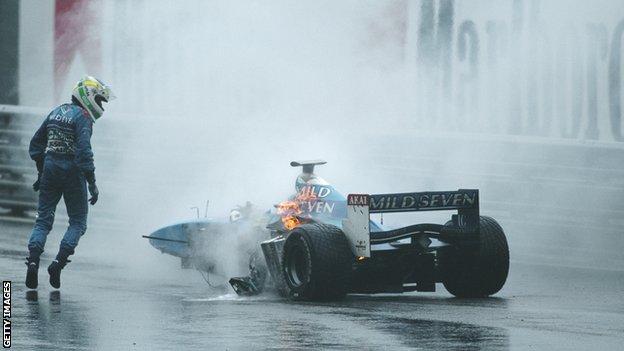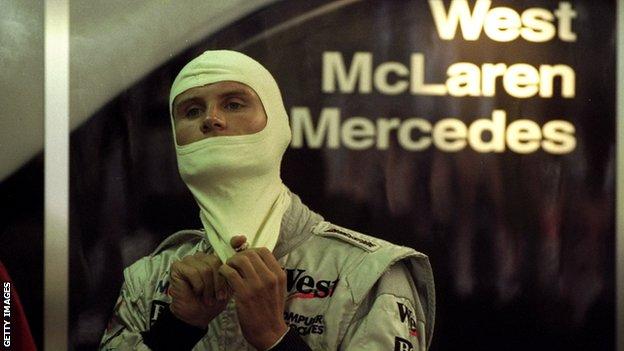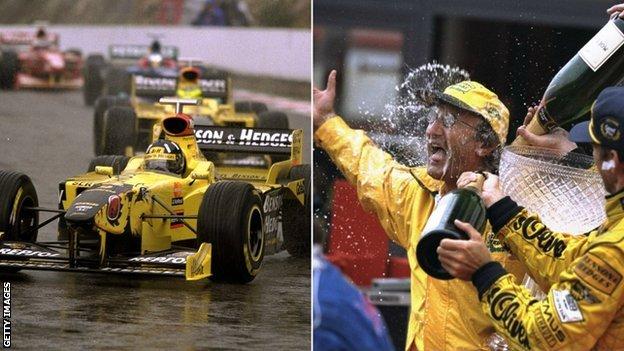 Quiz – name the Spa 1998 starting grid
Twenty-two drivers were on the grid for the 1998 Belgian Grand Prix. Unavoidably, a fair few have been mentioned in the preceding analysis, but how many of the other drivers can you name?
You have six minutes to find out.
1998 Belgium GP starting grid
| Rank | Drivers |
| --- | --- |
| 1 | |
| 2 | |
| 3 | |
| 4 | |
| 5 | |
| 6 | |
| 7 | |
| 8 | |
| 9 | |
| 10 | |
| 11 | |
| 12 | |
| 13 | |
| 14 | |
| 15 | |
| 16 | |
| 17 | |
| 18 | |
| 19 | |
| 20 | |
| 21 | |
| 22 | |